Very rarely, sometimes, just sometimes, you get what you need done 98% of what you were aiming for. I feel like this piece is what I've accomplished– something that I wanted to put into paper. As you see above, we are done now and there's no more need to continue writing: it's a masterpiece. We can move along now.
JK we're just getting started. So above I did a wet on wet technique on this really crappy paper that I will never recommend anyone: Canson Cold Press 140lb 12×18. Wow is it crappy: the paper buckles; colour just pools everywhere. I hate it- we all hate it– why is it being sold still?
I guess I will resort to using it as printing paper because it has absolutely no value in my life nor should it ever appear in your life. I promise you: it's awful- the buckling ruins lives ok
Here she is gracefully modeling right next to the Gansai Tambi. I actually masked off the piece for some reason– I have no rhyme nor answer for this bit. Part of me felt really happy to see a nice pensive mode forming through. I was concerned that the background might be too happy, but I'm determined to make her pensive!!
IT'S HAPPENING. Thank you, Walt Disney. I feel like your belief in me is channeling through in this piece.
I recommend doing swatch testing on on another sheet of paper that is of the same make that your piece is on. It shows you how the colours will truly appear on your piece. I really hate it when I am colour swatching on a sterile white paper, but the colour is slightly off on a warm cream background. Test those suckers and your colours will always be gucci (true story).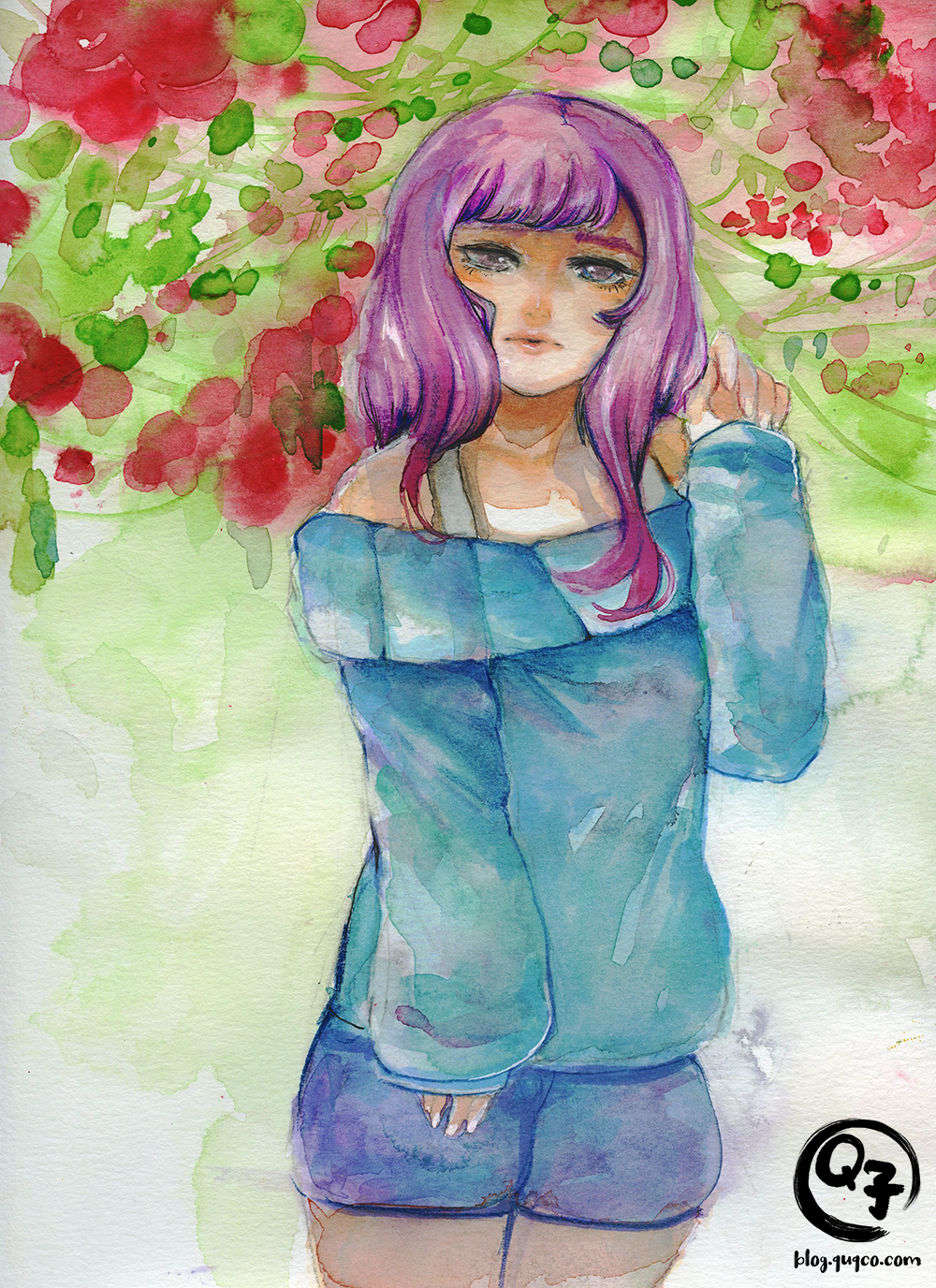 I debated on making the background more detailed, but overall I like the feeling we get from this piece so I left it alone. When I first started this piece, I had a specific feeling and mood that I wanted to channel into it. Although my mood had changed since I first started, I still wanted this to reflect that sort of mood.
What kind of feeling does she give you? I'm curious to see if my message reached you!
Also as a smol bonus:
She has no great meaning except for you to enjoy her cuteness lolol!
Sometimes I draw for stress relief, and sometimes I draw because I want to depict a mood. It's a weird feeling– letting your feelings reveal yourself through paper instead of speaking out loud.